26-10-2011, 02:54 PM

Imac wallpaper
Hello I am new here and was looking for the wallpaper the spooks have on the imac in the show. I do hope some one can help me out with this thanks.
All The Best
John
31-10-2011, 12:45 PM
RE: Imac wallpaper
so I take it as a no then.
01-11-2011, 10:24 PM
Gillymac
Junior Officer


Posts: 38
Joined: Oct 2011
Reputation: 2
RE: Imac wallpaper
Hiya John.

I'd love it as well, but I don't think it's been made available anywhere. You could try checking the credits on imdb for some sort of graphics company and maybe contact them?

Just a thought...
---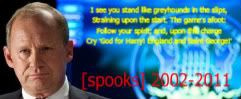 02-11-2011, 11:05 AM
RE: Imac wallpaper
hi and thank you very much for your help will give it a go.
All The Best
John
19-07-2012, 08:22 AM
RE: Imac wallpaper
User(s) browsing this thread: 1 Guest(s)