Look at all the cake and presents...
21-10-2011, 06:59 PM
SweetTea
Officer


Posts: 78
Joined: Aug 2011
Reputation: 0
RE: Look at all the cake and presents...
I read this earlier this morning and thought it was so sweet but didn't get a chance to comment as I had to run a quick errand. As I was driving to the library all I could think of was "Look at all the cake and presents" and was dang near bawling in my car (as I'm about to do once again.) I'm so anxious to see how everything ends but am sad that it's the end of the show. (I did manage to get my hands on their copy of Four Weddings and a Funeral so I can watch it again to see Nicola and Anna.)

I did just get my copy of Harry's diary in the mail yesterday and I'm really itching to start reading that, but it will have to wait while I finish some other Spooks related fanfic. I want to say thanks to Nitrus and the others for this site as it have been so very interesting to read and see what others have to say. No one I know in the world watches this show (granted I'm smack dab in the middle of the US but still) so it's wonderful to have a site such as this to get info. Without this site, I wouldn't have known how to watch this season of Spooks online and I'd be a mess trying to make do with comments on other sites, fanfic stories, and whatever snippets made their way to youtube and waiting for the US release of the DVDs.

Well, I've rambled on enough, but thanks again to everyone for the site. I hope to rewatch the series from the beginning and I'll read the comments as I do to gleam even more insights about each ep.
---
Zaf: "Shouldn't you be in prison or something?"
Ros: "This is the something."
21-10-2011, 07:18 PM
Kazters
Ros Myers Wannabe


Posts: 680
Joined: Jun 2010
Reputation: 2
RE: Look at all the cake and presents...
there are other forums around that are dedicated to spooks but ive never felt as welcome and respected as I do on this one. The one main thing is that its the layout, the fact that i am not alone in liling adam, and the simple joy that i was not alone in not liking anna.

i think this forum much like the harry potter and x files forums will live on simply because the body of work these shows have produced is strong enough for us to want to rewatch them all many many times!

thanks guys,
---
SPOOKS 2002-2011 - Thanks for the Memory's
21-10-2011, 07:58 PM
(This post was last modified: 22-10-2011 01:37 PM by Naivety.)
Naivety
Senior Officer


Posts: 458
Joined: Jul 2010
Reputation: 1
RE: Look at all the cake and presents...
Finding this forum a couple of years ago was a revelation to me. I had been a fan of Spooks since episode one, but never had anyone to chew over all the details with. My husband would say I get bogged down in the details. I find it wonderful to obsess and re-live all my favourite scenes and not seem like a complete weirdo.
Thank you to each and everyone one of you for forming a such an amazing place to be. You all make me feel so welcome.
I will re-watch all the episodes from time to time, and will continue to drop in and make observations, and I hope you do too.

21-10-2011, 09:26 PM
Gillymac
Junior Officer


Posts: 38
Joined: Oct 2011
Reputation: 2
RE: Look at all the cake and presents...
Ahem... My tuppenceworth...
I've been a loyal lurker since you started the forum, having been devoted to Spooks since ep.1, however I only felt moved to actually join up last night, leaving chaos in my wake (as per usual).
This forum is a credit to those of you who built and maintain it and, if I may say so, the opinions expressed herein are, in the main, thoughtful, intelligent, well expressed and keep the sugary sentiment well within diabetic limits

(Ok, ok... well, there's always one, isn't there?)
Quite looking forward to the aftermath now...
---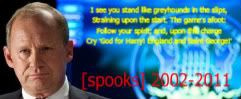 21-10-2011, 10:42 PM
Fidget
Spook


Posts: 224
Joined: Aug 2009
Reputation: 0
RE: Look at all the cake and presents...
I just want to say thanks to everyone who have made this forum such a wonderful place to visit, I am not looking forward to the 'end' of "Spooks' but I am really glad the forum will still be here
21-10-2011, 11:04 PM
almh
Section Chief


Posts: 2,465
Joined: Aug 2009
Reputation: 9
RE: Look at all the cake and presents...
Nitrus your post nearly made me tear up, which is quite impressive. It's been brilliant to be able to chat on here for the last couple of years, thank you for making the site as truly amazing it is. There are some great people on here, and despite the fact that Spooks is taking a temporary pause (never admit it's actually over

) I'm still looking forward to some more great moments on here.
---
DANNY - Placements all over the shop. Back up vehicles, chopper support if we need it. Bomb disposal with a signal jammer for Mary's trademark remote control blasts. And Tom here's doing the catering. Mate. You are so covered.
22-10-2011, 01:13 AM
expat
Spook from another planet


Posts: 109
Joined: Jul 2010
Reputation: 0
RE: Look at all the cake and presents...
Thanks to you all for being friends, comrades and fellow travelers. Thanks especially to Nitrus, JHyde, Beatrice, SilkTie, and Bertowud. Thanks to all of the Spooks for supporting the forum. And thanks to all who have posted, discussed, agreed and disagreed. It's been a pleasure reading opinions from all over the world!

What an unruly, unusual bunch we all are.
---
Thus let me live, unheard, unknown;
Thus unlamented let me dye;
Steal from the world, and not a stone
Tell where I lye.
22-10-2011, 03:28 AM
A Cousin
Alias Euterpe


Posts: 1,692
Joined: Apr 2010
Reputation: 10
RE: Look at all the cake and presents...
Aaawwww...Nitrus. You big ole softie you! Too British for a hug?

That was very touching and beautifully composed statement. More so because YOU SCARED THE HELL OUTTA ME!

I too thought this was a closing announcement. I am very glad to see I was wrong.
I love this place. It has become as much a part of my enjoyment of Spooks as Spooks itself. Not only for the awe inspiring analysis of this brilliant programme but for the laughs I have shared with some very special new friends all over the world who have taught me a lot. It is good to know that as sad as it is to say good-bye to this programme, we do not have to say good-bye to each other. Some will leave, some will stay and some will drift in and out. It is comforting to know that we will always be able to come back here to reconnect.
Thank you, Nitrus, for all you do and (thankfully) will continue to do to keep this haven of obsessives going. And a great big sloppy bear-hug to JHyde, Beatriz and Silktie for all they do as well. Not to mention the cast, crew, creative and production team of Spooks. Look at this!?! Ain't it grand?
Now, back out into the cold I go for another re-watch!
---
Now cracks a noble heart. Good-night, sweet

[Spooks]

;
And flights of angels sing thee to thy rest.
~Wm. Shakespeare, Hamlet
22-10-2011, 06:04 AM
pookster
Officer


Posts: 132
Joined: Apr 2011
Reputation: 0
RE: Look at all the cake and presents...
As a newbie to Spooks, I'd like to thank the mods for all their hard work and all the contributors to this wonderful forum. Its been great. As a mod of another forum still active despite finishing its TV run over 10 years ago, I'm sure there will be life left in this wonderful drama and all the terrific characters and story lines its produced.

Thanks again.
---
Thanks to TygerBright for the wonderful sig.
22-10-2011, 07:08 AM
Silktie
Moderator


Posts: 2,279
Joined: Aug 2009
Reputation: 14
RE: Look at all the cake and presents...
Nitrus - the man, the myth, the legend.


Thanks for everything, mate.
JHyde, Bea and Berto - thanks for the guidance and hard work. Keep on keeping on!
And a heartfelt thank you to all who've posted on here. What a fantastic bunch of people you are, even when we disagree.

I've had a blast, and will continue to do so.
May the last episode rock our socks, may we never cease to have opinions and express them on here, and may the friendships forged here last a lifetime.

---

User(s) browsing this thread: 1 Guest(s)